Toxin: n
Trivial name:
Lumazine peptides
Molecular formulae: 
C20H20O7N6
Molecular weight: 457.1443
Chemical abstract number: Not available
Literature reference:
You, Minjung; Liao, Lijuan; Hong, Soo Hyun; Park, Wanki; Kwon, Dah In; Lee, Jeeyeon; Noh, Minsoo; Oh, Dong-Chan; Oh, Ki-Bong; Shin, Jongheon
From Marine Drugs (2015), 13(3), 1290-1303.
References URL:
Aspergillus Species known to produce this metabolite:
Structure image: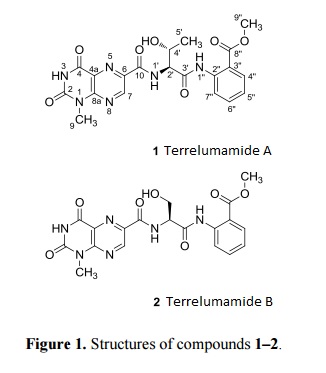 Date uploaded: 13/05/2015
---
Mycotoxin & Metabolites
Showing 10 posts of 2000 posts found.
Metabolite

Produced by (species)

Molecular weight

References
Mycotoxin & Metabolite database
Aspergillus species produce a large number of secondary metabolites, sometimes referred to as extrolites. We attempt to list them all here and we also collect published papers.