ID 2: 201
Toxin: y
Systematic name:
2-Cyclopenten-1-one, 4,5-dihydroxy-3-propenyl-
2-Cyclopenten-1-one, 4,5-dihydroxy-3-(1-propenyl)-
Molecular formulae: 
C8H10O3
Molecular weight: 154.163
Chemical abstract number: 582-46-7
Literature reference:
Kiriyama, Noriki; Nitta, Keiichi; Sakaguchi, Yoshiaki; Taguchi, Yasuhisa; Yamamoto, Yuzuru (Fac. Pharm. Sci., Kanazawa Univ., Kanazawa, Japan). Chem. Pharm. Bull., 25(10), 2593-601 (English) 1977.
Frisvad JC, Samson RA. Syst Appl Microbiol. 2004 Nov;27(6):672-80.
Emericella venezuelensis, a new species with stellate ascospores producing sterigmatocystin and aflatoxin B1.
Park SH, Kim DS, Kim WG, Ryoo IJ, Lee DH, Huh CH, Youn SW, Yoo ID, Park KC. Terrein: a new melanogenesis inhibitor and its mechanism. Cell Mol Life Sci. 2004 Nov;61(22):2878-85.
References URL:
Aspergillus Species known to produce this metabolite:
Structure image: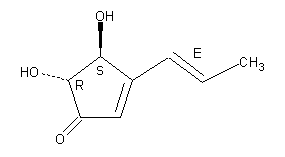 Date uploaded: 2005-12-15 00:00:00
---
Mycotoxin & Metabolites
Showing 10 posts of 2000 posts found.
Metabolite

Produced by (species)

Molecular weight

References
Mycotoxin & Metabolite database
Aspergillus species produce a large number of secondary metabolites, sometimes referred to as extrolites. We attempt to list them all here and we also collect published papers.