ID 2: 203
Toxin: y
Systematic name:
7-Oxabicyclo[4.1.0]hept-3-ene-2,5-dione, 3-hydroxy-4-methyl-, (1R,6S)-
Molecular formulae: 
C7H6O4
Molecular weight: 154.12
Chemical abstract number: 121-40-4
Literature reference:
Subramanian, T.; Namasivayam, K. Mohan; Shanmugasundaram, E. R. B. (Biochem. Lab., Univ. Madras, Madras, India). Proc. Indian Acad. Sci., Sect. B, 87B(7), 177-9 (English) 1978.
Yamamoto H, Moriyama K, Jinnouchi H, Yagishita K. Jpn J Antibiot. 1980 Mar;33(3):320-8.
Studies on terreic acid.
References URL:
Aspergillus Species known to produce this metabolite:
Toxicity:
mouse LD50 intraperitoneal 75mg/kg (75mg/kg) Japanese Journal of Antibiotics. Vol. 33, Pg. 320, 1980.
Link to PubMed
Structure image: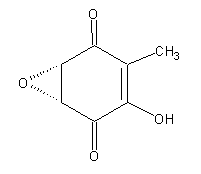 Date uploaded: 2005-12-15 00:00:00
---
Mycotoxin & Metabolites
Showing 10 posts of 2000 posts found.
Metabolite

Produced by (species)

Molecular weight

References
A1: 297.395 g/mol; A2: 297.395 g/mol; B1:279.38 g/mol; B2:279.38 g/mol; C1:295.379g/mol ;C2:295.379g/mol
Mycotoxin & Metabolite database
Aspergillus species produce a large number of secondary metabolites, sometimes referred to as extrolites. We attempt to list them all here and we also collect published papers.