ID 2: 223
Toxin: n
Systematic name: 2,5-Piperazinedione, 1,4-bis(methoxymethyl)-3,6-bis(phenylmethyl)-, cis-
Molecular formulae: 
C22H26N2O4
Molecular weight: 382
Chemical abstract number: 87869-01-0
References URL:
Aspergillus Species known to produce this metabolite:
Structure image: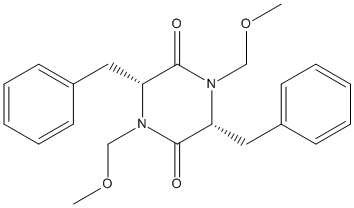 Date uploaded: 2008-07-14 10:22:26
---
Mycotoxin & Metabolites
Showing 10 posts of 2000 posts found.
Metabolite

Produced by (species)

Molecular weight

References
A1: 297.395 g/mol; A2: 297.395 g/mol; B1:279.38 g/mol; B2:279.38 g/mol; C1:295.379g/mol ;C2:295.379g/mol
Mycotoxin & Metabolite database
Aspergillus species produce a large number of secondary metabolites, sometimes referred to as extrolites. We attempt to list them all here and we also collect published papers.