Trivial name:
Psychrophilin E
Molecular formulae: 
C25H25N4O4
Molecular weight: 445
Literature reference:
Ebada SS, Fischer T, Hamacher A, Du FY, Roth YO, Kassack MU, Wang BG, Roth EH. Psychrophilin E, a new cyclotripeptide, from co-fermentation of two marine alga-derived fungi of the genus Aspergillus. Nat Prod Res. 2014;28(11):776-81. doi: 10.1080/14786419.2014.880911. Epub 2014 Jan 31.
References URL:
Aspergillus Species known to produce this metabolite:
Structure image: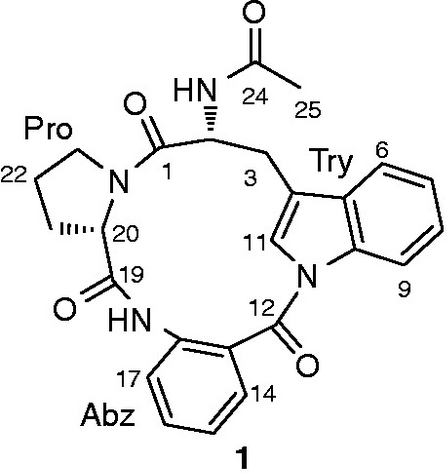 ---
Mycotoxin & Metabolites
Showing 10 posts of 2000 posts found.
Metabolite

Produced by (species)

Molecular weight

References
A1: 297.395 g/mol; A2: 297.395 g/mol; B1:279.38 g/mol; B2:279.38 g/mol; C1:295.379g/mol ;C2:295.379g/mol
Mycotoxin & Metabolite database
Aspergillus species produce a large number of secondary metabolites, sometimes referred to as extrolites. We attempt to list them all here and we also collect published papers.