ID 2: 404
Toxin: n
Trivial name:
Aflatoxin B3; Parasiticol
Systematic name:
2H-​Furo[3′,​2′:4,​5]​furo[2,​3-​h]​-​1-​benzopyran-​2-​one, 7a,​10a-​dihydro-​4-​(2-​hydroxyethyl)​-​5-​methoxy-
Molecular formulae: 
C16H14O6
Molecular weight: 302.28
Chemical abstract number: 23315-33-5
Literature reference:
Metabolites of Aspergillus flavus. Heathcote, John G.; Dutton, M. F. Tetrahedron (1969), 25(7), 1497-500.
Parasiticol: new metabolite from Aspergillus parasiticus. Stubblefield, Robert D.; Shotwell, Odette L.; Shannon, Gail M.; Weisleder, David; Rohwedder, William K. Journal of Agricultural and Food Chemistry (1970), 18(3), 391-3.
Carbon-​13 nuclear magnetic resonance studies of fungal metabolites, aflatoxins, and sterigmatocystins. Cox, Richard H.; Cole, Richard J. Journal of Organic Chemistry (1977), 42(1), 112-14.
References URL:
Aspergillus Species known to produce this metabolite:
Structure image: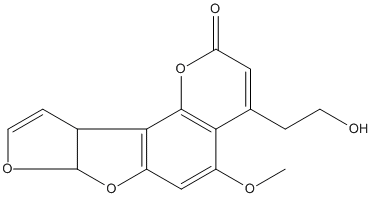 Date uploaded: 2008-07-14 09:51:33
---
Mycotoxin & Metabolites
Showing 10 posts of 1997 posts found.
Metabolite

Produced by (species)

Molecular weight

References
A1: 297.395 g/mol; A2: 297.395 g/mol; B1:279.38 g/mol; B2:279.38 g/mol; C1:295.379g/mol ;C2:295.379g/mol
Mycotoxin & Metabolite database
Aspergillus species produce a large number of secondary metabolites, sometimes referred to as extrolites. We attempt to list them all here and we also collect published papers.