Trivial name:
p-hydroxybenzaldehyde, chevalone B, chevalone C, S14-95
Molecular formulae: 
C26H30O5
Molecular weight: 422.5134
Chemical type: Meroterpenoid
Literature reference:
S14-​95, a novel inhibitor of the JAK​/STAT pathway from a Penicillium species. Erkel Gerhard; Rether Jan; Anke Timm; Sterner Olov. The Journal of antibiotics (2003), 56(4), 337-43.
New isocoumarin derivatives and meroterpenoids from the marine sponge-associated fungus Aspergillus similanensis sp. nov. KUFA 0013. Mar Drugs. 2014 Oct 14;12(10):5160-73. Prompanya C1, Dethoup T2, Bessa LJ3, Pinto MM4, Gales L5, Costa PM6, Silva AM7, Kijjoa A8. doi: 10.3390/md12105160.
References URL:
Aspergillus Species known to produce this metabolite:
Structure image: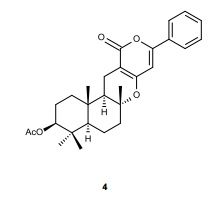 ---
Mycotoxin & Metabolites
Showing 10 posts of 1997 posts found.
Metabolite

Produced by (species)

Molecular weight

References
A1: 297.395 g/mol; A2: 297.395 g/mol; B1:279.38 g/mol; B2:279.38 g/mol; C1:295.379g/mol ;C2:295.379g/mol
Mycotoxin & Metabolite database
Aspergillus species produce a large number of secondary metabolites, sometimes referred to as extrolites. We attempt to list them all here and we also collect published papers.