ID 2: 212
Toxin: n
Trivial name: 1,​4-​Naphthoquinone, 2,​3-​epoxy-​2,​3-​dihydro-​5,​8-​dihydroxy- (8CI); Naphthazarin epoxide
Systematic name:
Naphth[2,3-b]oxirene-2,7-dione, 1a,7a-dihydro-3,6-dihydroxy-
Molecular formulae: 
C10H6O5
Molecular weight: 206.15
Chemical abstract number: 15254-67-8
Literature reference:
Isolation and identification of secondary metabolites of a strain of Aspergillus terreus, a common food contaminant. Subramanian, T.; Namasivayam, K. Mohan; Shanmugasundaram, E. R. B. Proceedings – Indian Academy of Sciences, Section B (1978), 87B(7), 177-9.
References URL:
Aspergillus Species known to produce this metabolite:
Structure image: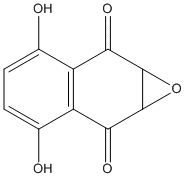 Date uploaded: 2008-07-07 16:58:01
---
Mycotoxin & Metabolites
Showing 10 posts of 2000 posts found.
Metabolite

Produced by (species)

Molecular weight

References
A1: 297.395 g/mol; A2: 297.395 g/mol; B1:279.38 g/mol; B2:279.38 g/mol; C1:295.379g/mol ;C2:295.379g/mol
Mycotoxin & Metabolite database
Aspergillus species produce a large number of secondary metabolites, sometimes referred to as extrolites. We attempt to list them all here and we also collect published papers.