ID 2: 52
Toxin: n
Trivial name: Benzamide, N-​[1-​(hydroxymethyl)​-​2-​phenylethyl]​-​, (S)​-; Benzamide, N-​[α-​(hydroxymethyl)​phenethyl]​-​, L- (8CI); N-​Benzoyl-​L-​phenylalaninol; N-​Benzoylphenylalanino​l; NSC 306230
Systematic name:
Benzamide, N-[(1S)-1-(hydroxymethyl)-2-phenylethyl]-
Molecular formulae: 
C16H17NO2
Molecular weight: 255.31
Chemical abstract number: 4503-96-2
Literature reference:
Two metabolites from Aspergillus flavipes. Clark, Alice M.; Hufford, Charles D.; Robertson, Larry W. Lloydia (1977), 40(2), 146-51.
References URL:
Aspergillus Species known to produce this metabolite:
Structure image: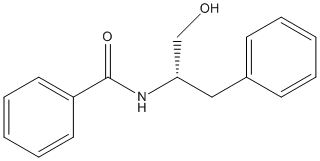 Date uploaded: 2008-07-07 16:58:01
---
Mycotoxin & Metabolites
Showing 10 posts of 2000 posts found.
Metabolite

Produced by (species)

Molecular weight

References
A1: 297.395 g/mol; A2: 297.395 g/mol; B1:279.38 g/mol; B2:279.38 g/mol; C1:295.379g/mol ;C2:295.379g/mol
Mycotoxin & Metabolite database
Aspergillus species produce a large number of secondary metabolites, sometimes referred to as extrolites. We attempt to list them all here and we also collect published papers.