ID 2: 509
Toxin: y
Trivial name:
3-Pentenophenone, 2′,3′,6′-trihydroxy- (7CI,8CI); Maltoryzin; Maltoryzine
Systematic name:
3-Penten-1-one, 1-(2,3,6-trihydroxyphenyl)- (9CI)
Molecular formulae: 
C11H12O4
Molecular weight: 208.21
Chemical abstract number: 6826-42-2
Literature reference:
Maltoryzine, a new toxic metabolite produced by a strain of Aspergillus oryzae var. microsporus isolated from the poisonous malt sprout. Iizuka, Hiroshi; Iida, Mitsugi. Nature (London, United Kingdom) (1962), 196, 681-2.
References URL:
Aspergillus Species known to produce this metabolite:
Toxicity:
mouse LD50 intraperitoneal 3mg/kg (3mg/kg) EFFECTS: PERIPHERAL NERVE AND SENSATION: FLACCID PARALYSIS WITHOUT ANESTHESIA (USUALLY NEUROMUSCULAR BLOCKAGE)
Food and Cosmetics Toxicology. Vol. 1, Pg. 309, 1963.
Structure image: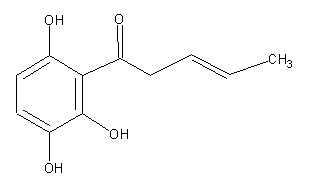 Date uploaded: 2005-12-14 00:00:00
---
Mycotoxin & Metabolites
Showing 10 posts of 1997 posts found.
Metabolite

Produced by (species)

Molecular weight

References
A1: 297.395 g/mol; A2: 297.395 g/mol; B1:279.38 g/mol; B2:279.38 g/mol; C1:295.379g/mol ;C2:295.379g/mol
Mycotoxin & Metabolite database
Aspergillus species produce a large number of secondary metabolites, sometimes referred to as extrolites. We attempt to list them all here and we also collect published papers.