ID 2: 180
Toxin: n
Trivial name: Benzaldehyde, 2-​(5-​heptenyl)​-​3,​6-​dihydroxy-​5-​(3-​methyl-​2-​butenyl)​-​, (E)​-; Benzaldehyde, 2-​(5E)​-​5-​heptenyl-​3,​6-​dihydroxy-​5-​(3-​methyl-​2-​butenyl)​- (9CI); Auroglaucin, isotetrahydro-; Isotetrahydroaurogla​ucin
Systematic name:
Benzaldehyde, 2-(5E)-5-heptenyl-3,6-dihydroxy-5-(3-methyl-2-butenyl)-
Molecular formulae: 
C19H26O3
Molecular weight: 302.41
Chemical abstract number: 74886-32-1
Literature reference:
Isolation and structures of two new metabolites from Aspergillus ruber. Hamasaki, Takashi; Fukunaga, Mamoru; Kimura, Yasuo; Hatsuda, Yuichi. Agricultural and Biological Chemistry (1980), 44(7), 1685-7.
Structure of a new metabolite, dihydroauroglaucin, produced by Aspergillus chevalieri. Hamasaki, Takashi; Kimura, Yasuo; Hatsuda, Yuichi; Nagao, Minako. Agricultural and Biological Chemistry (1981), 45(1), 313-14.
Benzaldehyde derivatives from Eurotium rubrum, an endophytic fungus derived from the mangrove plant Hibiscus tiliaceus. Li, Dong-Li; Li, Xiao-Ming; Li, Tie-Gang; Dang, Hong-Yue; Proksch, Peter; Wang, Bin-Gui. Chemical & Pharmaceutical Bulletin (2008), 56(9), 1282-1285.
Secondary metabolites from Eurotium species, Aspergillus calidoustus and A. insuetus common in Canadian homes with a review of their chemistry and biological activities. Slack, Gregory J.; Puniani, Eva; Frisvad, Jens C.; Samson, Robert A.; Miller, J. David. Mycological Research (2009), 113(4), 480-490.
References URL:
Aspergillus Species known to produce this metabolite:
Toxicity:
Antioxidants
Structure image: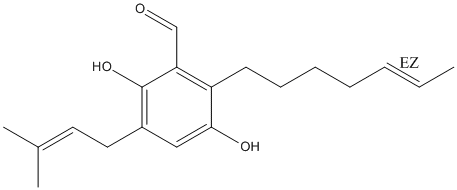 Date uploaded: 2008-07-07 16:30:55
---
Mycotoxin & Metabolites
Showing 10 posts of 2000 posts found.
Metabolite

Produced by (species)

Molecular weight

References
Mycotoxin & Metabolite database
Aspergillus species produce a large number of secondary metabolites, sometimes referred to as extrolites. We attempt to list them all here and we also collect published papers.