ID 2: 32
Toxin: y
Trivial name: Spiro[furan-​2(5H)​,​9′-​[9H]​imidazo[1,​2-​a]​indole]​-​3′,​5(2'H)​-​dione, 4-​[2-​[1-​(acetyloxy)​-​2-​methylpropyl]​-​4-​oxo-​3(4H)​-​quinazolinyl]​-​1′,​3,​4,​9'a-​tetrahydro-​1′-​hydroxy-​2′,​2′-​dimethyl-​, [9'S-​[9'α[4S*(R*)​]​,​9'aβ]​]​-; Fumitremorgin C; Tryptoquivaline; Tryptoquivaline A; Tryptoquivaline C
Systematic name:
9'R-(9'alpha(4S*(R*)),9'abeta))-4-(2-(1-(Acetyloxy)-2-methylpropyl)-4-oxo-3(4H)-quinazolinyl)-1′,3,4,9'a-tetrahydro-1′-hydroxy-2′,2′-dimethylspiro(furan-2(5H),9′-(9H)imidazo(1,2-a) indole)-3′,5(2'H)-dione
Molecular formulae: 
C29H30N4O7
Molecular weight: 546.57
Chemical abstract number: 55387-45-6
Literature reference:
Tryptoquivaline and tryptoquivalone, two tremorgenic metabolites of Aspergillus clavatus. Clardy, Jon; Springer, James P.; Buechi, George; Matsuo, Keizo; Wightman, Richard. Journal of the American Chemical Society (1975), 97(3), 663-5.
Isolation of some new tryptoquivaline-​related metabolites from Aspergillus fumigatus. Yamazaki M; Okuyama E; Maebayashi Y. Chemical & pharmaceutical bulletin (1979), 27(7), 1611-7.
Steyn PS, Vleggaar R. Tremorgenic mycotoxins. Fortschr Chem Org Naturst. 1985;48:1-80. Review.
Growth of and fumitremorgin production by Neosartorya fischeri as affected by temperature, light, and water activity. Nielsen P V; Beuchat L R; Frisvad J C. Applied and environmental microbiology (1988), 54(6), 1504-10.
References URL:
Aspergillus Species known to produce this metabolite:
Structure image: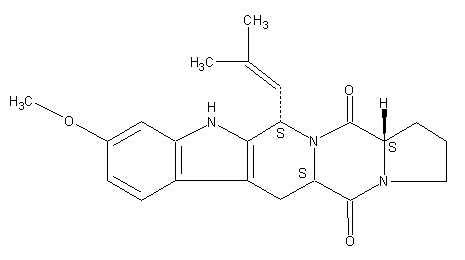 Date uploaded: 2005-11-29 00:00:00
---
Mycotoxin & Metabolites
Showing 10 posts of 2000 posts found.
Metabolite

Produced by (species)

Molecular weight

References
A1: 297.395 g/mol; A2: 297.395 g/mol; B1:279.38 g/mol; B2:279.38 g/mol; C1:295.379g/mol ;C2:295.379g/mol
Mycotoxin & Metabolite database
Aspergillus species produce a large number of secondary metabolites, sometimes referred to as extrolites. We attempt to list them all here and we also collect published papers.