ID 2: 98
Toxin: n
Trivial name: 5H,​14H-​Pyrrolo[1",​2":4′,​5′]​pyrazino[1′,​2′:1,​6]​pyrido[3,​4-​b]​indole-​5,​14-​dione, 1,​2,​3,​5a,​6,​11,​12,​14a-​octahydro-​5a,​6-​dihydroxy-​9-​methoxy-​11-​(3-​methyl-​2-​butenyl)​-​12-​(2-​methyl-​1-​propenyl)​-​, (5aR,​6S,​12S,​14aS)​- (9CI); 5H,​14H-​Pyrrolo[1",​2":4′,​5′]​pyrazino[1′,​2′:1,​6]​pyrido[3,​4-​b]​indole-​5,​14-​dione, 1,​2,​3,​5a,​6,​11,​12,​14a-​octahydro-​5a,​6-​dihydroxy-​9-​methoxy-​11-​(3-​methyl-​2-​butenyl)​-​12-​(2-​methyl-​1-​propenyl)​-​, [5aR-​(5aα,​6α,​12β,​14aα)​]​-; Fumitremorgin B; Lanosulin; NA 209B
Systematic name:
5H,14H-Pyrrolo[1",2":4′,5′]pyrazino[1′,2′:1,6]pyrido[3,4-b]indole-5,14-dione, 1,2,3,5a,6,11,12,14a-octahydro-5a,6-dihydroxy-9-methoxy-11-(3-methyl-2-butenyl)-12-(2-methyl-1-propenyl)-, (5aR,6S,12S,14aS)-
Molecular formulae: 
C27H33N3O5
Molecular weight: 479.57
Chemical abstract number: 12626-17-4
Literature reference:
Tremorgenic toxins from Aspergillus fumigatus. Yamazaki, Mikio; Suzuki, Shigetoshi; Miyaki, Komei. Chemical & Pharmaceutical Bulletin (1971), 19(8), 1739-40.
Tremorgenic mycotoxins from Aspergillus caespitosus. Schroeder, H. W.; Cole, R. J.; Hein, H., Jr.; Kirksey, J. W. Applied Microbiology (1975), 29(6), 857-8.
Environmental factors influencing fumitremorgin production by Neosartorya fischeri. Beuchat, L. R.; Nielsen, P. V.; Frisvad, J. C. Bioactive Molecules (1989), 10(Mycotoxins Phycotoxins '88), 7-12.
Antitumor metabolites from fungus Aspergillus sydowi D 2-​6. Ren, Hong; Cao, Xueli; Wang, Qiaoe; Xu, Chunming. Zhongguo Yaoxue Zazhi (Beijing, China) (2011), 46(8), 569-575.
Endophytic fungus Aspergillus tamarii from Ficus carica L., a new source of indolyl diketopiperazines. Zhang, Hong-Chi; Ma, Yang-Min; Liu, Rui; Zhou, Feng. Biochemical Systematics and Ecology (2012), 45, 31-33.
References URL:
Aspergillus Species known to produce this metabolite:
Structure image: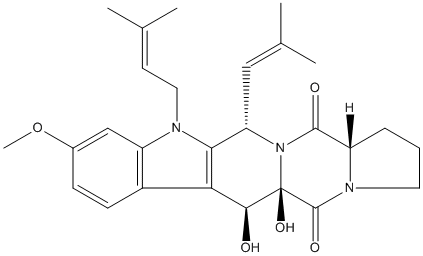 Date uploaded: 2008-07-07 16:30:55
---
Mycotoxin & Metabolites
Showing 10 posts of 2000 posts found.
Metabolite

Produced by (species)

Molecular weight

References
A1: 297.395 g/mol; A2: 297.395 g/mol; B1:279.38 g/mol; B2:279.38 g/mol; C1:295.379g/mol ;C2:295.379g/mol
Mycotoxin & Metabolite database
Aspergillus species produce a large number of secondary metabolites, sometimes referred to as extrolites. We attempt to list them all here and we also collect published papers.