ID 2: 109
Toxin: y
Trivial name: 5H,​12H-​3,​4-​Dioxa-​5a,​11a,​15a-​triazacyclooct[lm]​indeno[5,​6-​b]​fluorene-​11,​15(2H,​13H)​-​dione, 1,​10,​10a,​14,​14a,​15b-​hexahydro-​10a-​hydroxy-​7-​methoxy-​2,​2-​dimethyl-​10-​[(3-​methyl-​2-​butenyl)​oxy]​-​5-​(2-​methyl-​1-​propenyl)​-​, (5R,​10S,​10aR,​14aS,​15bS)​- (9CI); 5H,​12H-​3,​4-​Dioxa-​5a,​11a,​15a-​triazacyclooct[lm]​indeno[5,​6-​b]​fluorene-​11,​15(2H,​13H)​-​dione, 1,​10,​10a,​14,​14a,​15b-​hexahydro-​10a-​hydroxy-​7-​methoxy-​2,​2-​dimethyl-​10-​[(3-​methyl-​2-​butenyl)​oxy]​-​5-​(2-​methyl-​1-​propenyl)​-​, [5R-​(5α,​10α,​10aα,​14aα,​15bα)​]​-; Fumitremorgen A; Fumitremorgin A
Systematic name:
5H-12H-3,4-Dioxa-5a,11a,15a-triazacyclooct(lm)indeno(5,6-b)fluorene-11,15(2H,13H)-dione, 1,10,10a,14,14a,15b-hexahydro-10a-hydroxy-7-methoxy-2,2-dimethyl-10-((3-methyl-2-butenyl)oxy)-5-(2-methyl-1-propenyl)-, (5R,10S,10aR,14aS,15bS)-
Molecular formulae: 
C32H41N3O7
Molecular weight: 579.68
Chemical abstract number: 12626-18-5
Chemical type: alkaloid
Literature reference:
Tremorgenic toxins from Aspergillus fumigatus. Yamazaki, Mikio; Suzuki, Shigetoshi; Miyaki, Komei. Chemical & Pharmaceutical Bulletin (1971), 19(8), 1739-40.
Influence of atmospheric oxygen content on growth and fumitremorgin production by a heat-​resistant mold, Neosartorya fischeri. Nielsen, P. V.; Beuchat, L. R.; Frisvad, J. C. Journal of Food Science (1989), 54(3), 679-82, 685
References URL:
Aspergillus Species known to produce this metabolite:
Toxicity:
A tremorgenic mycotoxin. Intraperitoneal injection of 1 mg in mice caused visible tremors and a dose of 5 mg caused both sustained tremors and 70% mortality.
Structure image: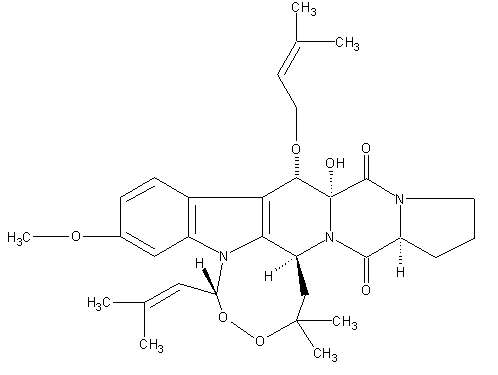 Date uploaded: 0000-00-00 00:00:00
---
Mycotoxin & Metabolites
Showing 10 posts of 2000 posts found.
Metabolite

Produced by (species)

Molecular weight

References
A1: 297.395 g/mol; A2: 297.395 g/mol; B1:279.38 g/mol; B2:279.38 g/mol; C1:295.379g/mol ;C2:295.379g/mol
Mycotoxin & Metabolite database
Aspergillus species produce a large number of secondary metabolites, sometimes referred to as extrolites. We attempt to list them all here and we also collect published papers.