ID 2: 304
Toxin: n
Systematic name: 4-Isobenzofurancarboxaldehyde, 1,3-dihydro-3,5-dihydroxy-7-methoxy-6-methyl-1-oxo-
Molecular formulae: 
C11H10O6
Molecular weight: 238.19
Chemical abstract number: 477-99-6
Literature reference:
Metabolic products of microorganisms. 167. Cyclopaldic acid from Aspergillus duricaulis. 1. Production, isolation and biological properties. Brillinger, G. U.; Heberle, W.; Weber, B.; Achenbach, H. Archives of Microbiology (1978), 116(3), 245-52.
References URL:
Aspergillus Species known to produce this metabolite:
Toxicity:
Antimicrobial
Structure image: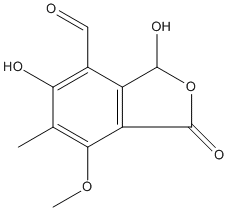 Date uploaded: 2008-07-07 15:48:31
---
Mycotoxin & Metabolites
Showing 10 posts of 2000 posts found.
Metabolite

Produced by (species)

Molecular weight

References
A1: 297.395 g/mol; A2: 297.395 g/mol; B1:279.38 g/mol; B2:279.38 g/mol; C1:295.379g/mol ;C2:295.379g/mol
Mycotoxin & Metabolite database
Aspergillus species produce a large number of secondary metabolites, sometimes referred to as extrolites. We attempt to list them all here and we also collect published papers.