ID 2: 381
Toxin: n
Trivial name: Butanoic acid, 2-​methyl-​, 1,​2,​3,​7,​8,​8a-​hexahydro-​7-​methyl-​8-​[2-​(tetrahydro-​4-​hydroxy-​6-​oxo-​2H-​pyran-​2-​yl)​ethyl]​-​1-​naphthalenyl ester, [1S-​[1α(R*)​,​7β,​8β(2S*,​4S*)​,​8aβ]​]​-; (+)​-​Compactin; Antibiotic ML 236B; CS 500; CS 500 (antibiotic); Compactin; Compactin (Penicillium); L 637312; ML 236B; ML 236B lactone; Mevastatin; NSC 281245; Statin I
Systematic name:
[8-[2-(4-hydroxy-6-oxo-tetrahydropyran-2-yl)ethyl]-7-methyl-1,2,3,7,8,8a-hexahydronaphthalen-1-yl] 2-methylbutanoate
Molecular formulae: 
C23H34O5
Molecular weight: 390.51
Chemical abstract number: 73573-88-3
Literature reference:
Biosynthesis of ML-​236C and the hypocholesterolemic agents compactin by Penicillium aurantiogriseum and lovastatin by Aspergillus terreus: determination of the origin of carbon, hydrogen and oxygen atoms by 13C NMR spectrometry and observation of unusual labeling of acetate-​derived oxygens by 18O2. Wagschal, Kurt; Yoshizawa, Yuko; Witter, David J.; Liu, Yaoquan; Vederas, John C. Journal of the Chemical Society, Perkin Transactions 1: Organic and Bio-Organic Chemistry (1996), (19), 2357-2363.
Production and purification of statins from Aspergillus terreus strains. Manzoni, Matilde; Rollini, Manuela; Bergomi, Silvia; Cavazzoni, Valeria. Biotechnology Techniques (1998), 12(7), 529-532.
References URL:
Aspergillus Species known to produce this metabolite:
Structure image: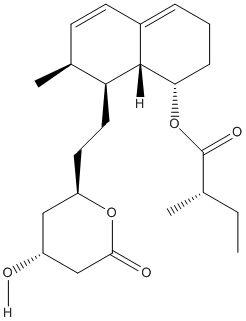 Date uploaded: 2008-07-07 15:48:31
---
Mycotoxin & Metabolites
Showing 10 posts of 2000 posts found.
Metabolite

Produced by (species)

Molecular weight

References
A1: 297.395 g/mol; A2: 297.395 g/mol; B1:279.38 g/mol; B2:279.38 g/mol; C1:295.379g/mol ;C2:295.379g/mol
Mycotoxin & Metabolite database
Aspergillus species produce a large number of secondary metabolites, sometimes referred to as extrolites. We attempt to list them all here and we also collect published papers.