ID 2: 188
Toxin: n
Trivial name: 6-​Hydroxy-​4-​methoxy-​5-​methylphthalimidine; Cichorine
Systematic name:
1H-Isoindol-1-one, 2,3-dihydro-6-hydroxy-4-methoxy-5-methyl-
Molecular formulae: 
C10H11NO3
Molecular weight: 193.20
Chemical abstract number: 114090-43-6
Literature reference:
Studies on fungal products. XVI. New metabolites related to 3-​methylorsellinate from Aspergillus silvaticus. Kawahara, Nobuo; Nozawa, Koohei; Nakajima, Shoichi; Udagawa, Shunichi; Kawai, Kenichi Chemical & Pharmaceutical Bulletin (1988), 36(1), 398-400.
Identification and molecular genetic analysis of the cichorine gene cluster in Aspergillus nidulans. Sanchez, James F.; Entwistle, Ruth; Corcoran, David; Oakley, Berl R.; Wang, Clay C. C. MedChemComm (2012), 3(8), 997-1002.
References URL:
Aspergillus Species known to produce this metabolite:
Structure image: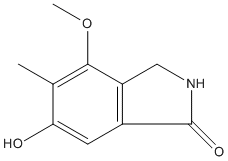 Date uploaded: 2008-07-07 15:48:31
---
Mycotoxin & Metabolites
Showing 10 posts of 2000 posts found.
Metabolite

Produced by (species)

Molecular weight

References
A1: 297.395 g/mol; A2: 297.395 g/mol; B1:279.38 g/mol; B2:279.38 g/mol; C1:295.379g/mol ;C2:295.379g/mol
Mycotoxin & Metabolite database
Aspergillus species produce a large number of secondary metabolites, sometimes referred to as extrolites. We attempt to list them all here and we also collect published papers.