ID 2: 38
Toxin: n
Systematic name: 2,3-Dibenzofurandiol, 7-(4-hydroxyphenyl)-6,9-dimethoxy-
Molecular formulae: 
C20H16O6
Molecular weight: 352.34
Chemical abstract number: 81474-59-1
Literature reference:
Candidusin A and B: new p-​terphenyls with cytotoxic effects on sea urchin embryos. Kobayashi, Akio; Takemura, Akira; Koshimizu, Koichi; Nagano, Hiroshi; Kawazu, Kazuyoshi. Agricultural and Biological Chemistry (1982), 46(2), 585-9.
An amendment of Aspergillus section Candidi based on chemotaxonomical evidence. Rahbaek, Lisa; Frisvad, Jens C.; Christophersen, Carsten. Phytochemistry (2000), 53(5), 581-586.
Prenylated polyhydroxy-​p-​terphenyls from Aspergillus taichungensis ZHN-​7-​07. Cai, Shengxin; Sun, Shiwei; Zhou, Huinan; Kong, Xianglan; Zhu, Tianjiao; Li, Dehai; Gu, Qianqun. Journal of Natural Products (2011), 74(5), 1106-1110.
References URL:
Aspergillus Species known to produce this metabolite:
Structure image: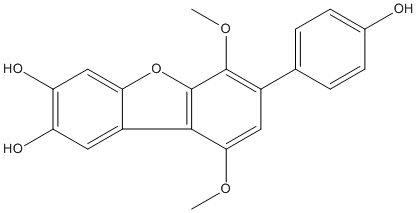 Date uploaded: 2008-07-07 15:48:31
---
Mycotoxin & Metabolites
Showing 10 posts of 2000 posts found.
Metabolite

Produced by (species)

Molecular weight

References
A1: 297.395 g/mol; A2: 297.395 g/mol; B1:279.38 g/mol; B2:279.38 g/mol; C1:295.379g/mol ;C2:295.379g/mol
Mycotoxin & Metabolite database
Aspergillus species produce a large number of secondary metabolites, sometimes referred to as extrolites. We attempt to list them all here and we also collect published papers.