ID 2: 222
Toxin: n
Systematic name: 2-Furancarboxylic acid, 2,5-dihydro-4-hydroxy-3-(4-hydroxyphenyl)-2-[(4-hydroxyphenyl)methyl]-5-oxo-, methyl ester, (2R)-
Molecular formulae: 
C19H16O7
Molecular weight: 356.33
Chemical abstract number: 87414-44-6
Literature reference:
Metabolic products of Aspergillus terreus. IX. Biosynthesis of butyrolactone derivatives isolated from strains IFO 8835 and 4100. Nitta, Keiichi; Fujita, Noritaka; Yoshimura, Tadashi; Arai, Kunizo; Yamamoto, Yuzuru. Fac. Pharm. Sci., Kanazawa Univ., Kanazawa, Japan. Chemical & Pharmaceutical Bulletin (1983), 31(5), 1528-33.
preparation, antitumor activity, and formulations of dihydrofuran compounds. Morishima, Hajime; Fujita, Kagari; Nakano, Masato; Atsumi, Shugo; Ookubo, Mitsuru; Kitagawa, Masatoshi; Matsumoto, Hidemi; Okuyama, Akira; Okabe, Takayoshi; Et, Al. Jpn. Kokai Tokkyo Koho (1994), JP 06100445 A 19940412.
References URL:
Aspergillus Species known to produce this metabolite:
Toxicity:
Antitumour
Structure image: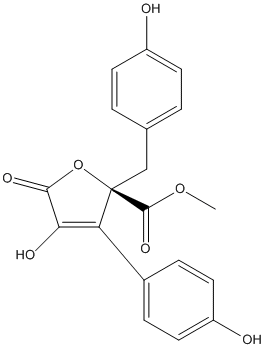 Date uploaded: 2008-07-07 15:48:31
---
Mycotoxin & Metabolites
Showing 10 posts of 2000 posts found.
Metabolite

Produced by (species)

Molecular weight

References
A1: 297.395 g/mol; A2: 297.395 g/mol; B1:279.38 g/mol; B2:279.38 g/mol; C1:295.379g/mol ;C2:295.379g/mol
Mycotoxin & Metabolite database
Aspergillus species produce a large number of secondary metabolites, sometimes referred to as extrolites. We attempt to list them all here and we also collect published papers.