ID 2: 233
Toxin: n
Trivial name: Butyrolactone I Olomoucin
Systematic name:
2-Furancarboxylic acid, 2,5-dihydro-4-hydroxy-2-[[4-hydroxy-3-(3-methyl-2-butenyl)phenyl]methyl]-3-(4-hydroxyphenyl)-5-oxo-, methyl ester, (2R)-
Molecular formulae: 
C24H24O7
Molecular weight: 424.44
Chemical abstract number: 87414-49-1
Literature reference:
Studies on the metabolic products of Aspergillus terreus. III. Metabolites of the strain IFO 8835. (1). Kiriyama, Noriki; Nitta, Keiichi; Sakaguchi, Yoshiaki; Taguchi, Yasuhisa; Yamamoto, Yuzuru. Chemical & Pharmaceutical Bulletin (1977), 25(10), 2593-601.
Cancer and cell cycle inhibitor. A specific inhibitor for cdc2 family kinase. Kitagawa, Masatoshi; Nishimura, Susumu. Saishin Igaku (1993), 48(3), 418-24.
References URL:
Aspergillus Species known to produce this metabolite:
Toxicity:
Cell cycle inhibitor
Structure image: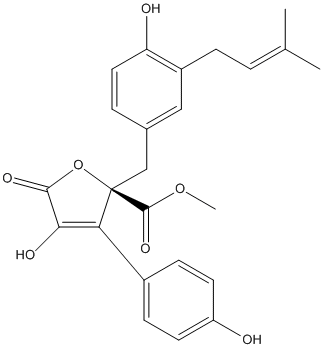 Date uploaded: 2008-07-07 15:48:31
---
Mycotoxin & Metabolites
Showing 10 posts of 2000 posts found.
Metabolite

Produced by (species)

Molecular weight

References
A1: 297.395 g/mol; A2: 297.395 g/mol; B1:279.38 g/mol; B2:279.38 g/mol; C1:295.379g/mol ;C2:295.379g/mol
Mycotoxin & Metabolite database
Aspergillus species produce a large number of secondary metabolites, sometimes referred to as extrolites. We attempt to list them all here and we also collect published papers.