ID 2: 464
Toxin: y
Trivial name: NSC 159632
Systematic name:
(7R,8S)-7,8-Dihydro-7,8-dihydroxy-3,7-dimethyl-6-oxo-6H-2-benzopyran-5-carbaldehyde
Molecular formulae: 
C12H12O5
Molecular weight: 236.22
Chemical abstract number: 53043-28-0
Literature reference:
Constitution and absolute configuration of austdiol, the main toxic metabolite from Aspergillus ustus. Vleggaar, Robert; Steyn, Pieter S.; Nagel, Dietmar W. Journal of the Chemical Society, Perkin Transactions 1: Organic and Bio-Organic Chemistry (1972-1999) (1974), (1), 45-9.
References URL:
Aspergillus Species known to produce this metabolite:
Toxicity:
Causes gastrointestinal upset in experimental animals and reported to be acutely toxic to day-old chickens.
Structure image: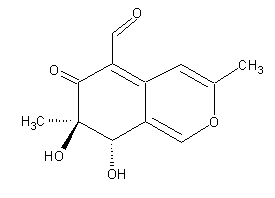 Date uploaded: 2005-12-11 00:00:00
---
Mycotoxin & Metabolites
Showing 10 posts of 2000 posts found.
Metabolite

Produced by (species)

Molecular weight

References
A1: 297.395 g/mol; A2: 297.395 g/mol; B1:279.38 g/mol; B2:279.38 g/mol; C1:295.379g/mol ;C2:295.379g/mol
Mycotoxin & Metabolite database
Aspergillus species produce a large number of secondary metabolites, sometimes referred to as extrolites. We attempt to list them all here and we also collect published papers.