ID 2: 284
Toxin: n
Systematic name: 1H-2-Benzopyran-1-one, 3,4-dihydro-8-hydroxy-6-methoxy-3-methyl-, (3R)-
Molecular formulae: 
C11H12O4
Molecular weight: 208.21
Chemical abstract number: 13410-15-6
Literature reference:
Fungal metabolites. Part 7. Structures of C25 compounds from Aspergillus variecolor. Dunn, Andrew W.; Johnstone, Robert A. W.; King, Trevor J.; Lessinger, Leslie; Sklarz, Benjamin (Robert Robinson Lab., Univ. Liverpool, Liverpool L69 3BX, Engl.). J. Chem. Soc., Perkin Trans. 1, (9), 2113-17 (English) 1979.
References URL:
Aspergillus Species known to produce this metabolite:
Structure image: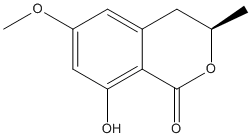 Date uploaded: 2008-07-07 13:40:36
---
Mycotoxin & Metabolites
Showing 10 posts of 2000 posts found.
Metabolite

Produced by (species)

Molecular weight

References
A1: 297.395 g/mol; A2: 297.395 g/mol; B1:279.38 g/mol; B2:279.38 g/mol; C1:295.379g/mol ;C2:295.379g/mol
Mycotoxin & Metabolite database
Aspergillus species produce a large number of secondary metabolites, sometimes referred to as extrolites. We attempt to list them all here and we also collect published papers.