ID 2: 72
Toxin: n
Systematic name:
1H-Benzo[d]naphthalen-1-ol, 2,3,4,4a,5,6,7,7a,10,11-decahydro-8-(1H-indol-3-yl)-4,4a,7-trimethyl-9-(1-methylethyl)-, (1R,4S,4aR,7S,7aR,11aR)-rel-
Molecular formulae: 
C28H39NO
Molecular weight: 405
Chemical abstract number: 74328-59-9
Literature reference:
Aflavinine, a novel indole-​mevalonate metabolite from tremorgen-​producing Aspergillus flavus species. Gallagher, Rex T.; McCabe, Terrence; Hirotsu, Ken; Clardy, Jon; Nicholson, Judith; Wilson, Benjamin J. (Dep. Chem., Cornell Univ., Ithaca, NY 14853, USA). Tetrahedron Lett., 21(3), 243-6 (English) 1980.
Aspergillus bertholletius sp. nov. from brazil nuts. Taniwaki, Marta H.; Pitt, John I.; Iamanaka, Beatriz T.; Sartori, Daniele; Copetti, Marina V.; Balajee, Arun; Fungaro, Maria Helena P.; Frisvad, Jens C.
PLoS One (2012), 7(8), e42480.
Three new aflavinines from the sclerotia of Aspergillus tubingensis. TePaske, Mark R.; Gloer, James B.; Wicklow, Donald T.; Dowd, Patrick F. Tetrahedron (1989), 45(16), 4961-8
References URL:
Aspergillus Species known to produce this metabolite:
Structure image: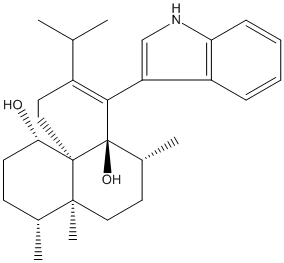 Date uploaded: 2008-07-07 13:11:59
---
Mycotoxin & Metabolites
Showing 10 posts of 2000 posts found.
Metabolite

Produced by (species)

Molecular weight

References
Mycotoxin & Metabolite database
Aspergillus species produce a large number of secondary metabolites, sometimes referred to as extrolites. We attempt to list them all here and we also collect published papers.