ID 2: 129
Toxin: n
Systematic name: 7H-Furo[3′,2′:4,5]furo[2,3-c]xanthen-7-one, 3a,12c-dihydro-8-hydroxy-6,10,11-trimethoxy-, (3aR-cis)-
Molecular formulae: 
C20H16O8
Molecular weight: 384.336
Chemical abstract number: 65176-75-2
Chemical type: Dihydrodifuranoxanthone
Literature reference:
5,​6-​Dimethoxysterigmatocystin and related metabolites from Aspergillus multicolor. Hamasaki, Takashi; Nakagomi, Takeo; Hatsuda, Yuichi; Fukuyama, Keiichi; Katsube, Yukiteru (Fac. Agric., Tottori Univ., Tottori 680, Japan). Agric. Biol. Chem., 44(5), 1149-55 (English) 1980.
Inhibitory effect of sterigmatocystin and 5,6-dimethoxysterigmatocystin on ATP synthesis in mitochondria. Kawai K, Nakamaru T, Nozawa Y, Maebayashi Y, Yamazaki M, Natori S. Appl Environ Microbiol. 1984 Nov;48(5):1001-3.
References URL:
Aspergillus Species known to produce this metabolite:
Structure image: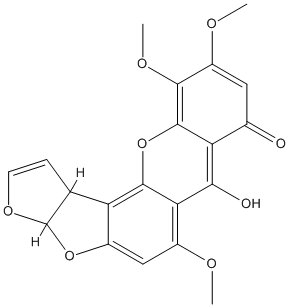 Date uploaded: 2008-07-07 12:40:48
---
Mycotoxin & Metabolites
Showing 10 posts of 2000 posts found.
Metabolite

Produced by (species)

Molecular weight

References
A1: 297.395 g/mol; A2: 297.395 g/mol; B1:279.38 g/mol; B2:279.38 g/mol; C1:295.379g/mol ;C2:295.379g/mol
Mycotoxin & Metabolite database
Aspergillus species produce a large number of secondary metabolites, sometimes referred to as extrolites. We attempt to list them all here and we also collect published papers.