ID 2: 184
Toxin: n
Systematic name: 2H-Indol-2-one, 1,3-dihydro-3-[4-(1H-indol-3-yl)-2,3,5,6-tetramethoxyphenyl]-, (-)-
Molecular formulae: 
C26H24N2O5
Molecular weight: 444
Chemical abstract number: 287117-65-1
Literature reference:
New Cyclic Peptide and Bisindolyl Benzenoid Metabolites from the Sclerotia of Aspergillus sclerotiorum. Whyte, Authrine C.; Joshi, Biren K.; Gloer, James B.; Wicklow, Donald T.; Dowd, Patrick F. J. Nat. Prod., 63(7), 1006-1009
References URL:
Aspergillus Species known to produce this metabolite:
Structure image: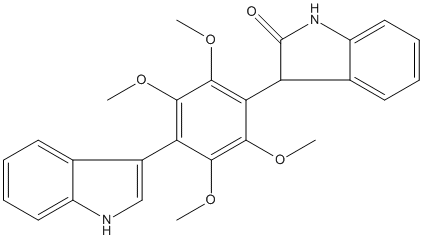 Date uploaded: 2009-01-22 12:19:11
---
Mycotoxin & Metabolites
Showing 10 posts of 2000 posts found.
Metabolite

Produced by (species)

Molecular weight

References
A1: 297.395 g/mol; A2: 297.395 g/mol; B1:279.38 g/mol; B2:279.38 g/mol; C1:295.379g/mol ;C2:295.379g/mol
Mycotoxin & Metabolite database
Aspergillus species produce a large number of secondary metabolites, sometimes referred to as extrolites. We attempt to list them all here and we also collect published papers.