ID 2: 549
Toxin: n
Systematic name: 2-Amino-1-methyl-9H-purine-6-thione 9H-Purine-6-thione, 2-amino-1-methyl- Purine-6(1H)-thione, 2-amino-1-methyl- 6H-Purine-6-thione, 2-amino-1,7-dihydro-1-methyl- (9CI)
Molecular formulae: 
C6H7N5S
Molecular weight: 181.219
Chemical abstract number: 1320-87-2
Literature reference:
Lin A, Huang KC, Hwu L, Tzean SS. Toxicon. 1995 Jan;33(1):105-10. Production of type II ribotoxins by Aspergillus species and related fungi in Taiwan.
OLSON BH, GOERNER GL. ALPHA SARCIN, A NEW ANTITUMOR AGENT. I. ISOLATION, PURIFICATION, CHEMICAL COMPOSITION, AND THE IDENTITY OF A NEW AMINO ACID. Appl Microbiol. 1965 May;13:314-21.
Kao R, Davies J. Fungal ribotoxins: a family of naturally engineered targeted toxins? Biochem Cell Biol. 1995 Nov-Dec;73(11-12):1151-9. Review.




References URL:
Aspergillus Species known to produce this metabolite:
Toxicity:
mouse LDLo 50mg/kg (50mg/kg) Journal of Medicinal and Pharmaceutical Chemistry. Vol. 5, Pg. 996, 1962.
Structure image: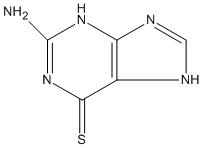 Date uploaded: 2008-07-07 13:14:58
---
Mycotoxin & Metabolites
Showing 10 posts of 2000 posts found.
Metabolite

Produced by (species)

Molecular weight

References
A1: 297.395 g/mol; A2: 297.395 g/mol; B1:279.38 g/mol; B2:279.38 g/mol; C1:295.379g/mol ;C2:295.379g/mol
Mycotoxin & Metabolite database
Aspergillus species produce a large number of secondary metabolites, sometimes referred to as extrolites. We attempt to list them all here and we also collect published papers.