Author:
KA Holden, KG Staley, EA Gaillard
Author address:
University of Leicester, Leicester, UK
Full conference title:
British Thoracic Society Winter Meeting 2016
Abstract:
Introduction: Preschool wheeze is very common and can be troublesome necessitating frequent hospital admissions and trials of preventer medications. It has been suggested that fungal sensitisation is associated with severe childhood asthma (Vicencio 2014), however it is unclear when this sensitisation occurs and whether fungal sensitisation is associated with preschool wheeze. We aimed to assess whether children attending our clinic due to preschool wheeze were sensitised to fungi and whether fungal sensitisation is associated with troublesome wheezing.
Methods: Preschoolers attending our clinic due to wheezing investigated for allergic sensitisation to a panel of aeroallergens (D. pteronyssinus, cat, dog, timothy grass and tree pollen) and fungi were identified. Evidence of sensitisation was determined by a raised specific IgE (sIgE) > 35 kU/L detected by fluorescent enzyme immunoassay. Sensitisation to fungi was determined either by raised sIgE to a 'mould screen' (comprising Penicillium notatum, Cladosporium herbarum, Aspergillus fumigatus, Candida albicans, Alternaria alternata and Helminthosporium halodes) or to specific fungi including those in the mould screen and Malassezia spp. Data on the number of hospital-recorded admissions due to an exacerbation of wheezing within the preceding 12 months and currently prescribed medications, hence BTS treatment step, were collected.
Results: Table 1 displays the demographic features of the 51 children identified, the number of children with a raised total IgE and evidence of sensitisation to aeroallergens and fungi. Six (24%) children with a raised total IgE and 4 (31%) sensitised to aeroallergens were sensitised to fungi. Whilst we found a positive correlation between age and serum total IgE (0.364, r2 = 0.13, p < 0.01 – Spearman's rank) there was no significant correlation between age and sIgE to the mould screen or specific fungi. We found no significant differences in the age, number of hospitalrecorded admissions due to wheeze or BTS treatment step between those preschoolers sensitised and not-sensitised to fungi. Discussion Our preliminary data suggests that a) few children with preschool wheeze attending clinic have evidence of fungal sensitisation and b) fungal sensitisation does not appear to be associated with hospitalisation frequency or required medications. Further exploration is required to determine, if any, the relationship between fungal sensitisation and preschool wheeze.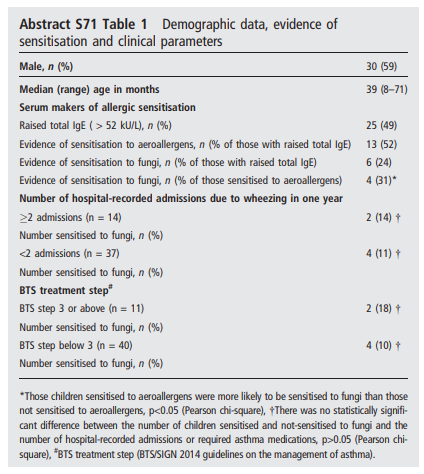 Abstract Number: S71
Conference Year: 2016
---
Conference abstracts, posters & presentations
Showing 10 posts of 17130 posts found.
Title

Author

Year

Number

Poster
v

HV Patel 1, B Kane 2, P Foden 2, LJ Holmes 2, GOG Tavernier 2, TB Morris 1, DM Ryan 2, RM Niven 2

v

K Shah, C Manton, J Agbetile, M Bourne, B Hargadon, M Richardson, C Pashley, AJ Wardlaw, S Gonem

v

MJ Sanders 1, R Bruin 1, CH Tran 2

v

JS Schreiber, CM Mailaender

v

1 A Adlakha, 2 DAJ Armstrong-James, 1 B Lenhard

v

David González De Olano, Lorena Bernal-Rubio, Pía De-Calzada-Bustingorri, Gonzalo De-Los-Santos-Granados, Carlos Almonacid-Sánchez, Belén De-La-Hoz-Caballer

v

Lise Melscoet, Naji Khayath, Frederic De Blay

v

Adeyinka Odebode, Adedotun Adekunle, Ebenezer Farombi

v

Kseniia Suska, Kateryna Gashynova, Valeriia Dmytrychenko