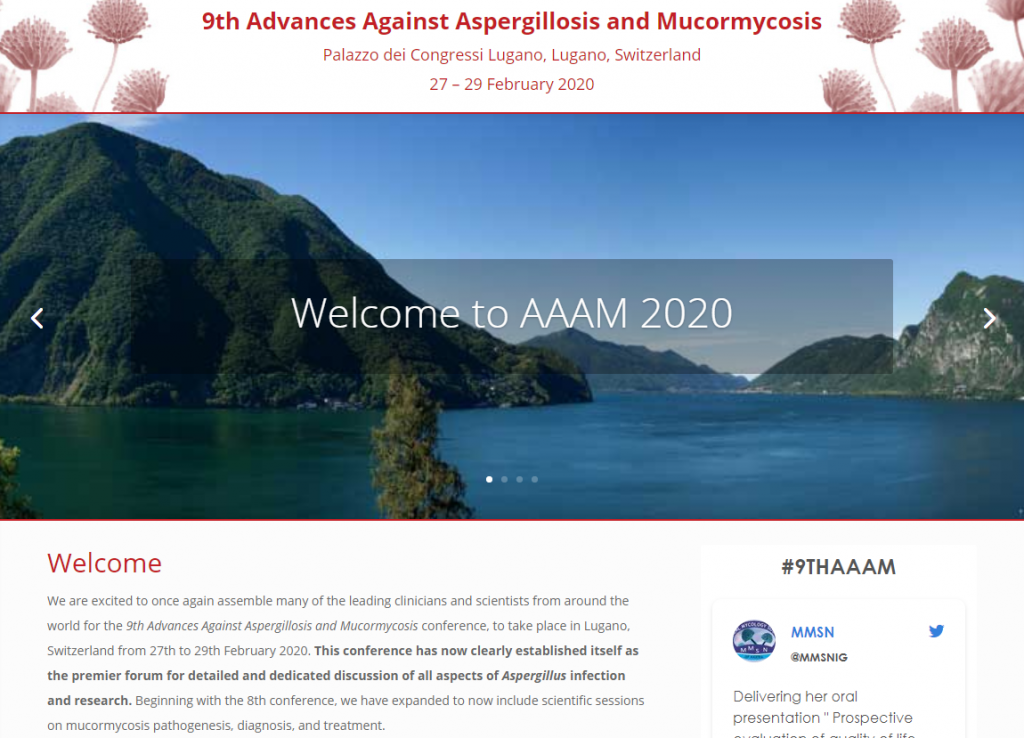 AAAM 2020 was held in Lugano, Switzerland from 27 – 29th February 2020. Unfortunately, this date coincided with a large outbreak of the new coronavirus COVID-19 in northern Italy, bordering directly on the Swiss area in which the conference was to be held. This persuaded many delegates to call off plans to travel to the conference but organisers were able to obtain many talks via video links or recordings and the meeting largely went ahead as planned.
The Aspergillus Website is hosting material from many of the talks, with slide sets and recorded talks available here.
Timed to coincide with AAAM 2020, World Aspergillosis Day 2020 (#worldaspergillosisday 27th Feb) was also planning a day of involvement and campaigning at the conference and this was disrupted a little but again largely also ran as planned with each delegate asked to wear badges designed for the occasion and a series of slides with messages from aspergillosis patients were shown to delegates between sessions. A patients meeting was run on the morning of World Aspergillosis Day attended by 20 patients, staff from the National Aspergillosis Centre NAC CARES team and experts from around the world. Patients heard a presentation from specialist antifungal pharmacist Saarah Niazi-Ali and another from Nguyen Thi Bich Ngoc, MD., PhD on the unique challenges of diagnosing and treating Chronic Pulmonary Aspergillosis in Vietnam.
The Aspergillosis Trust held a series of events throughout the UK to help raise awareness and funding for the Fungal Infection Trust.
To browse slides uploaded from AAAM 2020 go here.
The AAA meetings are the only international meetings entirely devoted to the scientific and medical challenges presented by Aspergillus.
AAA 8th (2020) – Conference abstracts
Showing 4 posts of 187 posts found.
Title

Author

Year

Number

Poster
v

C Duarte-Oliveira1,2, S Ferreira1,2, SM Gonçalves1,2, D Antunes1,2, A Mantovani3,4,
C Cunha1,2, A Carvalho1,2

v

M Momany1, M Brewer2, SE Kang1, LG Sumabat2, T Melie2, B Mangum1

v

L Novak-Frazer1,2, D Hassan1, S Hill1,2, CB Moore1,2, R Rautemaa-Richardson1,2,3,
MD Richardson1,2
---
AAA 8th (2020) – Slide presentations
Showing 9 posts of 9 posts found.
---
AAA – Websites
1st AAA 2004
2nd AAA 2006
3rd AAA 2008
4th AAA 2010
5th AAA 2012
6th AAA 2014
7th AAA 2016
8th AAA 2018
9th AAA 2020
---
AAA – Tweets
---
The National Aspergillosis Centre (NAC) from Manchester, UK ran a parallel meeting principally for patients & carers with the intention of promoting awareness of aspergillosis and NAC patient & carer support groups in Portugal but this was also an opportunity for non-specialist clinicians to get some information about the centre and its services that are available outside the UK as well as within UK. This meeting inspired much interest from patients, carers and it was good to see local clinicians interested in aspergillosis listen to several talks on the clinical and patients support services available at NAC.
---
World Aspergillosis Day – Support the carers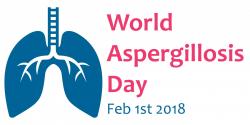 1st February at the 8th AAA was the first World Aspergillosis Day, launched at the patients meeting. The first year aims to promote care and support for those people that everyone involved in aspergillosis depends on but rarely acknowledge: carers and families.
In acknowledgement of the role and the work of those spouses, partners, children, parents and many more who care for chronically ill people we reproduce the words of Mike Chapman here:
We are so often ill, our breath coming in gasps,
We fear for ourselves, plead for mercy,
Those breaths we take fight us with wheeze and rasp,
Our plight is hard; our mood is hard and grouchy.
But wait a moment; pause a minute, look around, do you see?
Those that love us, care for us, nurse us and stay by our side,
Those loved ones, siblings, partners or spouse, standing closely,
Holding our hand, mopping a brow, hiding how they cried.
So while we suffer, puff and pant, do not grumble, do not rant,
There is strength beside us, a hand to support, an ear to listen,
Our loved ones who watch us suffer without showing a tear,
Our life is hard, full of despair, but do we see the eye that glistens?
My wife is my rock, my oxygen mask, my faithful nurse,
I am lucky, I'm not alone, I have someone who cares,
Suffer we do, often it's true, but don't moan, don't curse,
One of us is ill but both feel the pain, the suffering we share.
Friend or family, brother or son, husband or wife,
We all must remember those who hide their tear, hide their pain,
They sacrifice their hearts, to accompany us in our plight,
So keep in your hearts a smile, for those who love us, with nothing to gain.
Copyright ©MichaelKChapman 2014